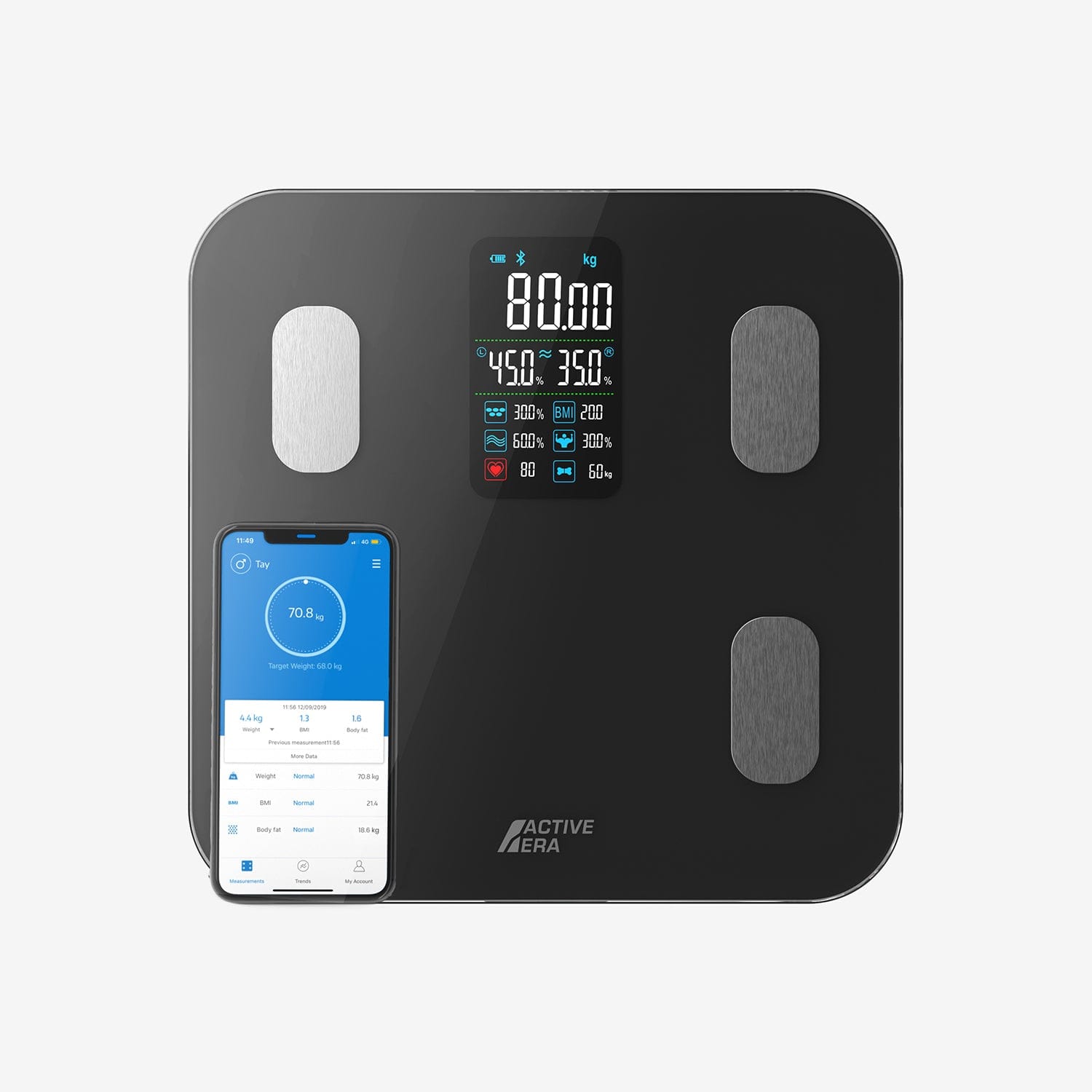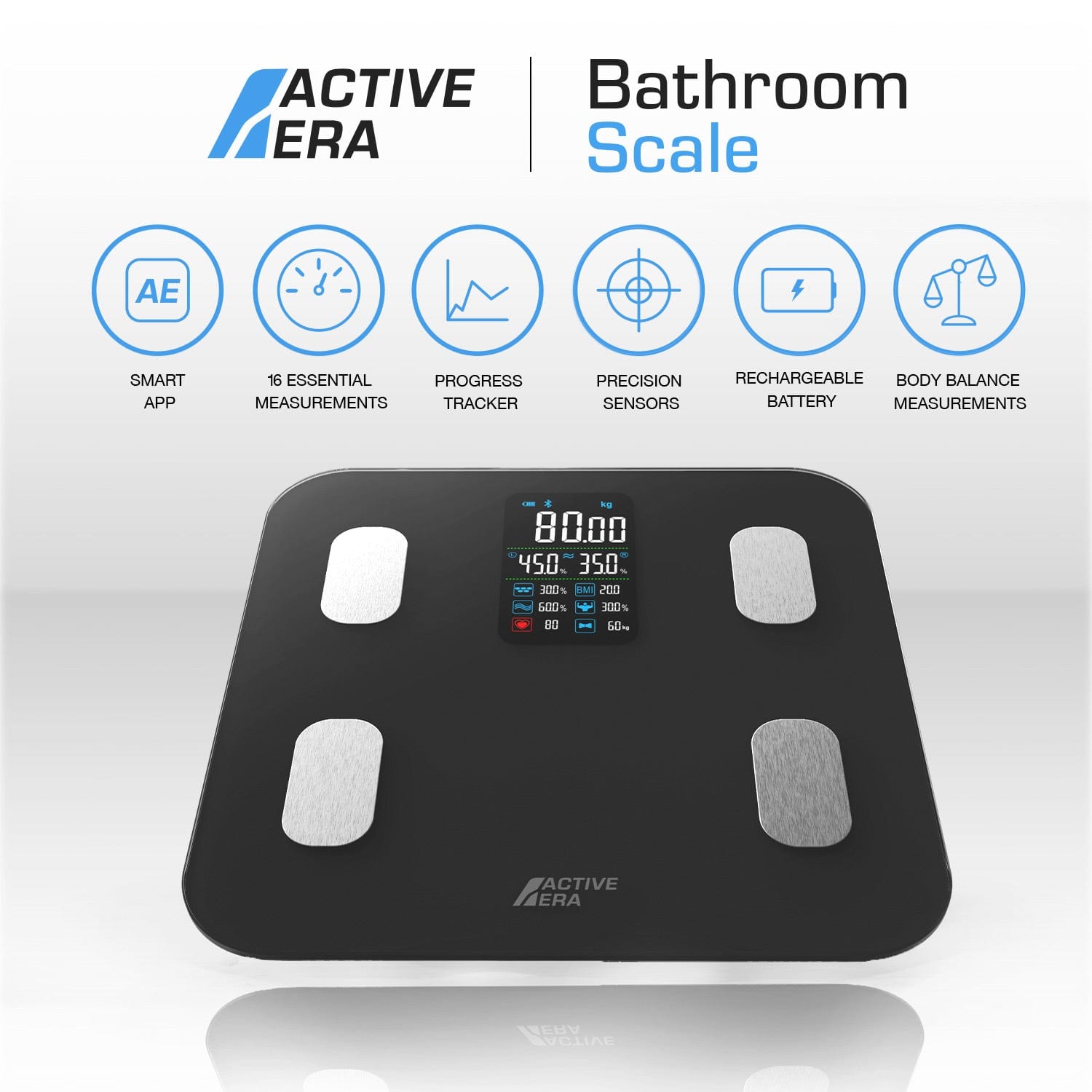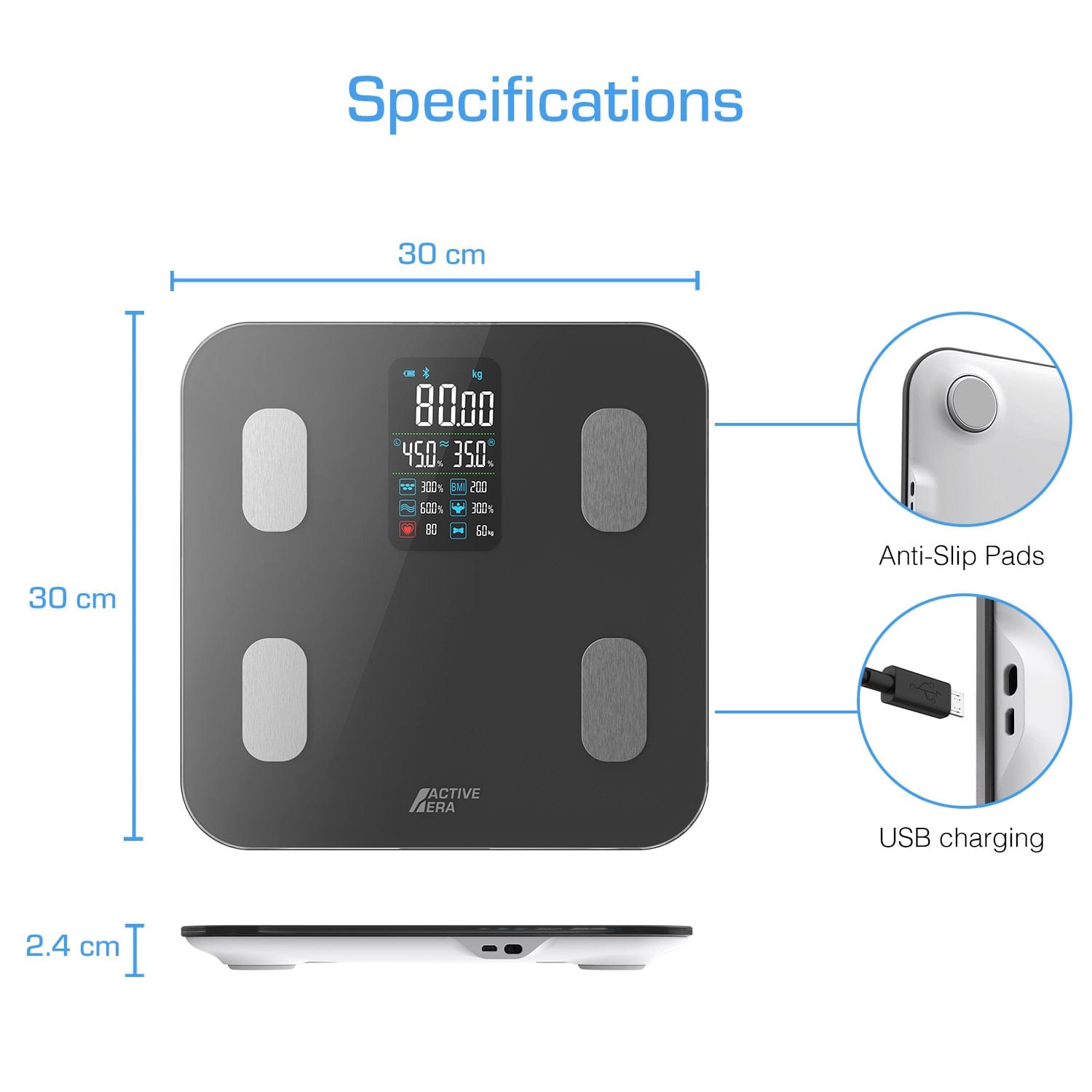 Smart Bathroom Scales - V2 Black
Track your progress by gaining insight into your physical well-being with these Smart Bathroom Scales. Providing accurate measurements in seconds ranging from weight to BMI, they can be paired with your smartphone or watch to boost motivation.
These Smart Bathroom Scales feature 8 high-precision weight and BIA sensors that deliver unparalleled accuracy in stone, kilograms or pounds measuring weight, Body Mass Index (BMI), Protein %, Heart Rate, Cardiac Index and much more. These scales feature an extra-large LED screen and a unique body balance function which indicates how your weight is distributed between each leg. Sync with the Active Era app to track your progress over time with easy-to-read charts. A large platform ensures weight is evenly distributed across the surface, and an ultra-strong 6mm tempered glass structure provides a durable and sleek design to suit any home or bathroom.
Smartphone Pairing:

 

Monitor your progress on your smartphone using the free app, allowing you to create unlimited user profiles.
Enhanced Heart Rate & Cardiac Index Measure:

 

Featuring enhanced heart measurements used to help evaluate the different forms of shock.
Large LCD Display:

 

The large and back-lit LCD display makes readings super easy to read.
Ultra-Strong Platform:

 

Featuring an ultra-strong tempered glass platform that's durable and sleek to suit any bathroom.
Safety Features:

 

The scales turn on and off automatically as you step on and off, and are designed with anti-slip safety pads to stay firmly in place.
Weight

1.84 kg

Material

Tempered Glass + ABS

Accuracy

60 kg+/-0.3 kg 120 kg+/-0.4 kg 180 kg+/-0.5 kg

Units Measured

kg/lb/st

Min Weight

6 kg

Max Weight

181 kg / 400 lbs / 28 st

LCD Display

Yes (VA Display)

Overload Protection

Yes (Err)

Auto On Off Function

Yes

Battery Type

Micro USB (lithium ion)

BMI

Yes

Body Fat

Yes

Muscle Mass

Yes

Bone Mass

Yes

Body Water

Yes

Dimensions

30 x 30 x 2.5 cm

Model

BS-06B-UK

Batteries Included

Yes

Heart Rate

Yes

Heart Index

Yes

Body Balance

Yes

Skeletal Muscle

Yes

Visceral Fat

Yes

Protein

Yes

BMR

Yes

Metabolic Age

Yes

Free Body Weight

Yes

Subcutaneous Fat

Yes

Athlete Mode

Yes

Baby Mode

Yes

Apple Health Google Fit

Yes

Fitbit

Yes

Feet

Silicone
Free Delivery
All orders placed before 2pm Monday-Thursday for delivery within Mainland UK will be delivered within 2 working days (excluding bank holidays). Orders are typically dispatched within 1 working day. You will receive a shipping confirmation email once your order has been shipped.
Northern Ireland, Scottish Highlands and Channel Islands Delivery
All non-mainland orders will be delivered within 2-3 working days (excluding bank holidays). For remote addresses, please allow an extra 1-2 working days. Orders are typically dispatched within 1 working day, and you'll receive a shipping confirmation email once your order has been shipped.
Pre-Order Delivery
All pre-orders will be dispatched as soon as stock becomes available. You'll receive a shipping confirmation email once your order has been shipped. Pre-order delivery dates are subject to change.
UK Returns
In order to initiate your return, please notify our Customer Care Team within 14 days of receiving your order. To be eligible for a refund, your product should be unused.
You will then have an additional 14 days to return your order back to us, so your refund can be issued.
Please click here for further information about returns.
If you're concerned that your product is faulty, please contact our Customer Care Team here.
Compare with similar items
Weight

1.84 kg

Material

Tempered Glass + ABS

Accuracy

60 kg+/-0.3 kg 120 kg+/-0.4 kg 180 kg+/-0.5 kg

Units Measured

kg/lb/st

Min Weight

6 kg

Max Weight

181 kg / 400 lbs / 28 st

LCD Display

Yes (VA Display)

Overload Protection

Yes (Err)

Auto On_Off Function

Yes

Battery Type

Micro USB (lithium ion)

BMI

Yes

Body Fat

Yes

Muscle Mass

Yes

Bone Mass

Yes

Body Water

Yes

Dimensions

30 x 30 x 2.5 cm

Model

BS-06B-UK

Batteries Included

Yes

Heart Rate

Yes

Heart Index

Yes

Body Balance

Yes

Skeletal Muscle

Yes

Visceral Fat

Yes

Protein

Yes

BMR

Yes

Metabolic Age

Yes

Free Body Weight

Yes

Subcutaneous Fat

Yes

Athlete Mode

Yes

Baby Mode

Yes

Apple health_google_fit

Yes

Fitbit

Yes

Feet

Silicone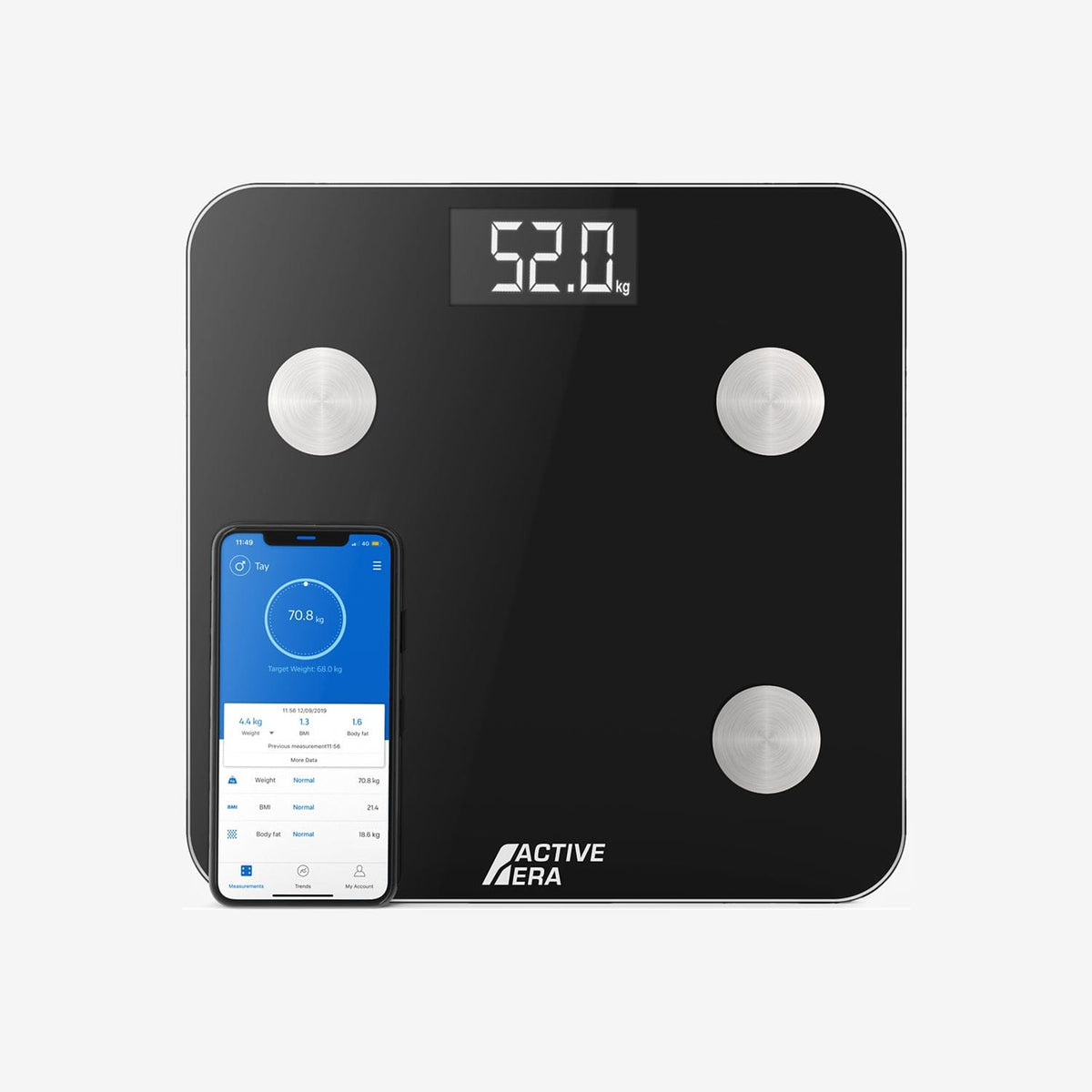 Weight

1.56 kg

Material

Tempered Glass + ABS

Accuracy

60 kg +/-0.3 kg 120 kg +/-0.4 kg 180 kg +/-0.5 kg"

Units Measured

kg/lb/st

Min Weight

6 kg

Max Weight

180 kg / 400 lbs / 28 st

LCD Display

Yes (74 x 38mm)

Overload Protection

Yes (Err)

Auto On_Off Function

Yes

Battery Type

AAA x 2

BMI

Yes

Body Fat

Yes

Muscle Mass

Yes

Bone Mass

Yes

Body Water

Yes

Dimensions

28 x 28 x 2.4 cm

Model

BS-05B-UK

Batteries Included

Yes

Heart Rate

No

Heart Index

No

Body Balance

No

Skeletal Muscle

No

Visceral Fat

No

Protein

No

BMR

No

Metabolic Age

No

Free Body Weight

Yes

Subcutaneous Fat

Yes

Athlete Mode

Yes

Baby Mode

Yes

Apple health_google_fit

Yes

Fitbit

Yes

Feet

Eva
Weight

1.84 kg

Material

Tempered Glass + ABS

Accuracy

60 kg+/-0.3 kg 120 kg+/-0.4 kg 180 kg+/-0.5 kg

Units Measured

kg/lb/st

Min Weight

6 kg

Max Weight

181 kg / 400 lbs / 28 st

LCD Display

Yes (VA Display)

Overload Protection

Yes (Err)

Auto On_Off Function

Yes

Battery Type

Micro USB (lithium ion)

BMI

Yes

Body Fat

Yes

Muscle Mass

Yes

Bone Mass

Yes

Body Water

Yes

Dimensions

30 x 30 x 2.5 cm

Model

BS-06B-UK

Batteries Included

Yes

Heart Rate

Yes

Heart Index

Yes

Body Balance

Yes

Skeletal Muscle

Yes

Visceral Fat

Yes

Protein

Yes

BMR

Yes

Metabolic Age

Yes

Free Body Weight

Yes

Subcutaneous Fat

Yes

Athlete Mode

Yes

Baby Mode

Yes

Apple health_google_fit

Yes

Fitbit

Yes

Feet

Silicone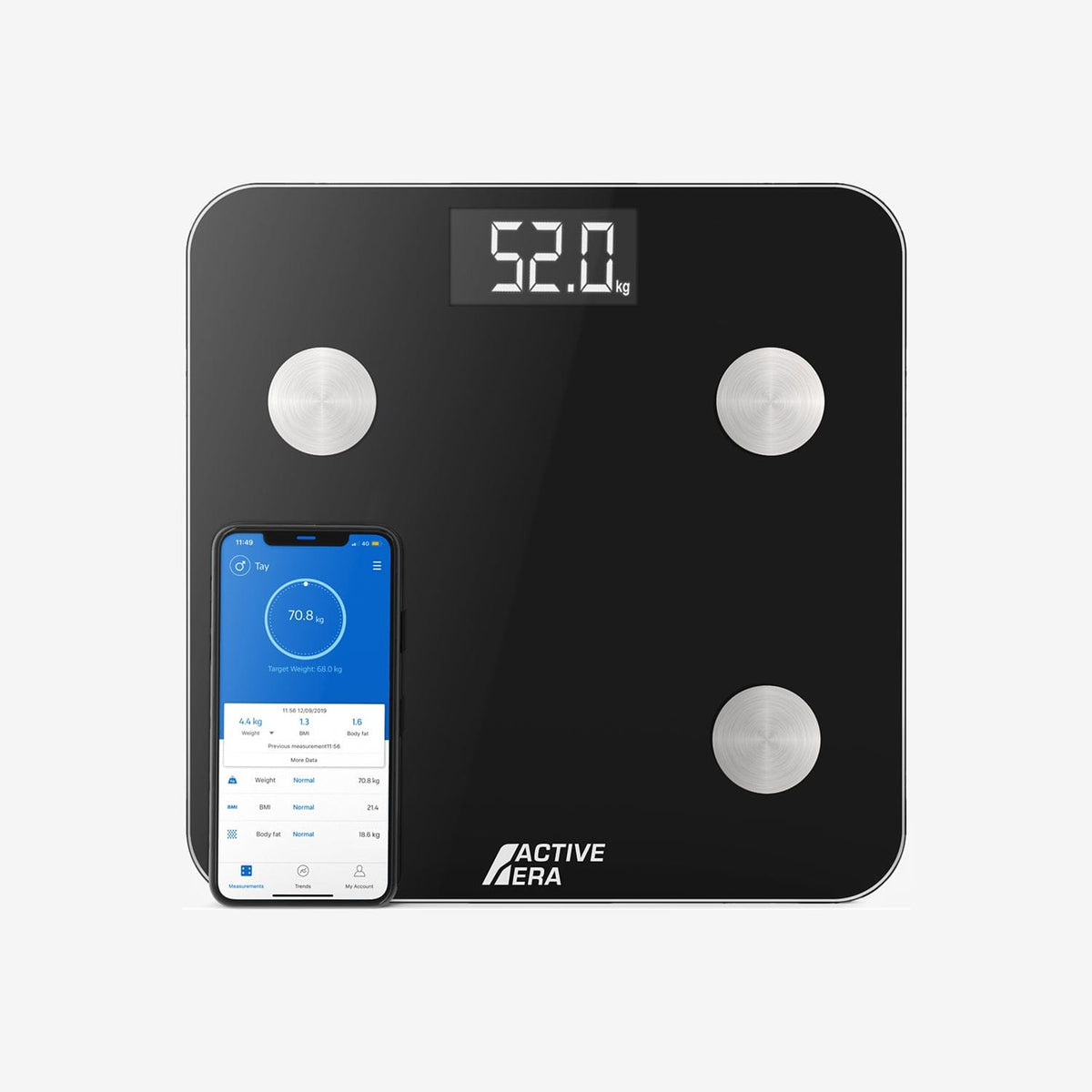 Weight

1.56 kg

Material

Tempered Glass + ABS

Accuracy

60 kg +/-0.3 kg 120 kg +/-0.4 kg 180 kg +/-0.5 kg"

Units Measured

kg/lb/st

Min Weight

6 kg

Max Weight

180 kg / 400 lbs / 28 st

LCD Display

Yes (74 x 38mm)

Overload Protection

Yes (Err)

Auto On_Off Function

Yes

Battery Type

AAA x 2

BMI

Yes

Body Fat

Yes

Muscle Mass

Yes

Bone Mass

Yes

Body Water

Yes

Dimensions

28 x 28 x 2.4 cm

Model

BS-05B-UK

Batteries Included

Yes

Heart Rate

No

Heart Index

No

Body Balance

No

Skeletal Muscle

No

Visceral Fat

No

Protein

No

BMR

No

Metabolic Age

No

Free Body Weight

Yes

Subcutaneous Fat

Yes

Athlete Mode

Yes

Baby Mode

Yes

Apple health_google_fit

Yes

Fitbit

Yes

Feet

Eva